2022-johoropen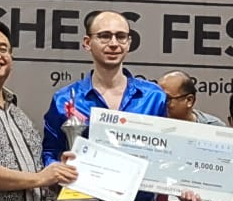 GM Sivuk Vitaly emerged champion of the 2022-johoropen scoring 7.5 points from 9 rounds.
GM Sivuk Vitaly had 6 wins, 3 draws and 0 loss.
Wins include games against

IM Soozankar A.M.
IM Gunawan Ronny
Dinh Nho Kiet
IM Yeoh Li Tian
GM Nguyen Duc Hoa
IM Sadikin The Irwanto
and draws against

IM Muthaiah Al
GM Priasmoro Novendra
IM Harikrishnan A Ra
.
A total of 78 players took part in this tournament.
---
STYLE 1 STYLE 2 powered by Chess Pretty @ catur.org
visitors:32391