2022 SGChessFestival Chess960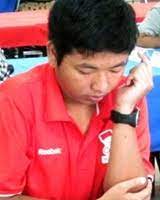 FM Masruri Rahman emerged champion of the 2022 SGChessFestival Chess960 scoring 6 points from 7 rounds.
FM Masruri Rahman had 5 wins, 2 draws and 0 loss.
Wins include games against

Ngiam Liyou
Fang Tianyang
Yansen Kawatu
Chia Yu Zhe Ashton
Wong Yen-Hsiu Elliot
and draws against

IM Ali Muhammad Lufti
CM Wong Jayden Zhenyong
.
A total of 27 players took part in this tournament.
---
STYLE 1 STYLE 2 powered by Chess Pretty @ catur.org
visitors:32391